Elena Bellantoni
I decide to go to Catania with a group of friend for New Year's Eve. I'm very happy, I deserve a couple of days of rest, 2015 has been an intense and productive year. I want to take a break and walk around Etna, which mumbles words of ash lately.

This year words have been my litmus test: the tool I used to record Lucciole's vinyls, to break plates of Parole Cunzate, to type on my 9 Olivettis, to resist in Impero Ottomano – my latest performance. I don't define myself as performer or video artist, I prefer to be an investigator, I collect traces, narrations and documents in my explorations – which is what they are.
It's 2:00 am on the 1st of January, the gig of a band from Catania just ended, dance hall is empty and I hang on the last sax notes which make an eco in my head. I make a last thought before I close my eyes: "I feel very well, I feel I just fit myself…".
The matter of belonging and identity is the fil rouge of my research, of the world I'm immersed in, of my relation with the Other. The body has become the tool that writes this language, the words, the code to translate it. This path went offshore with Hala Yella addio/adios, a long trip to the bottom of the world, to the Chilean Patagonia in the South Antartic. I went to this extreme zone of the world to meet the abuela (grandmother) Cristina Calderon, the last descendant of an ancient population: the Yeghans, the native population of the Strait of Magellan. I spent two months at the National Library of Santiago, studying Jesuits texts – written in French and English – to find traces of their ancient language and create an illustrated abecedary. Then I went on board a cargo vessel and in 48 hours I reached the final do mundo: the Isla Navarino, also known as Capo Horn, to meet this woman – listed in the UNESCO heritage – who speaks Yeghan.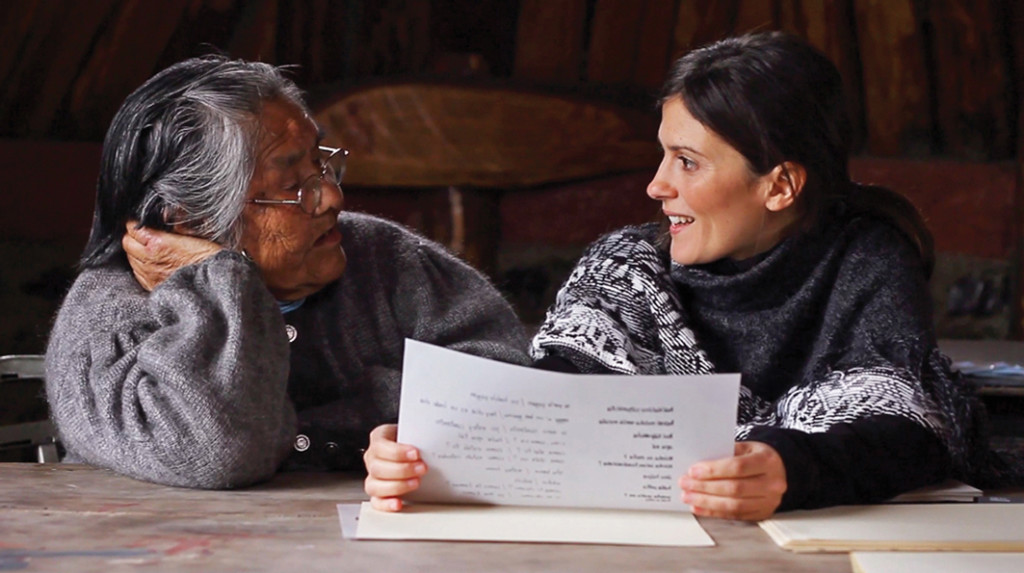 I don't know how, I find myself on the floor, I lost consciousness, I have my hand on my belly and people around me asking how I feel. The pain is heavy, it's not my belly, I say, but my right hand that dangles and can't move. Is it broken?
What is broken? is the question I asked to all the persons who took part in my performance Parole Cunzate, last August, during a residence in Ostuni for Apulia Land Art Festival. I decided to resume the old cunzatrice tradition: a cunzatrice was a woman who used to go round little towns to fix/patch/resew plates and other broken household objects. The technique consisted in making holes on the items surface and then sew the broken pieces together with mortar and iron wire. During the performance, I invited the spectator to sit in front of me and break a plate previously received as a gift from the town inhabitants. The same question was given to each person and written on the cunzed plate; then each plate has been put in a circular installation. A work about trauma, about those cracks which come through us and make our story and our personality.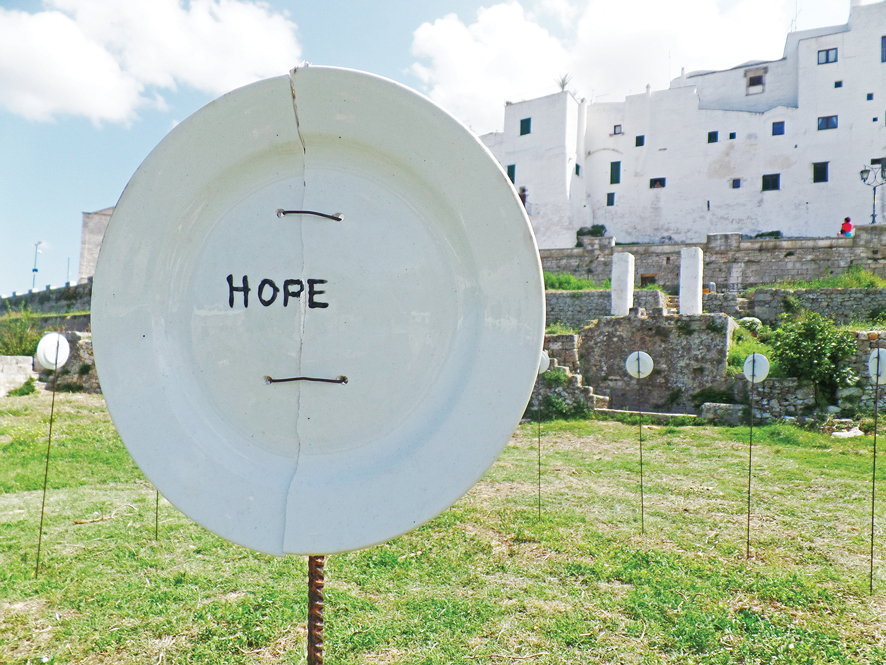 It's almost 3:00 am, I'm at the first aid of Garibaldi Hospital in Catania. No red jackets, only neon lights and blue stretchers. I try to face the pain working on a diaphragm breathing, I look around in the meanwhile: from a tons of high heels coming from a party, a girl appears, a dog bit her nose; another girl flipped on a bottle cork and got peroneal and tibia bone broken. And me? I don't remember anything, I say to the doctor, my friends saw me flying after two guys crushed on me while running. They injected me a Toradol dose, I resist thanks to my red underwear, they should have brought luck. I resist also after the x-rays, when they tell me it's a compound fracture of my wrist. I resist.
What does resist? My solo exhibition in Pescara just ended: Lucciole. I was born in 1975, the year of Pier Paolo Pasolini assassination. On the 1st of February, some months before his death, he wrote "L'articolo delle Lucciole" on Il Corriere della Sera. I decided to tell the last 40 years of Italy history, making interviews about the period from 1975 to 2015, about political events which influenced everyone's personal life. I collected 40 narrations which became the tracks of Lucciole, 4 lp records. The "Personal is political" slogan of the 70's is alive in the tales of people who resisted the time of history.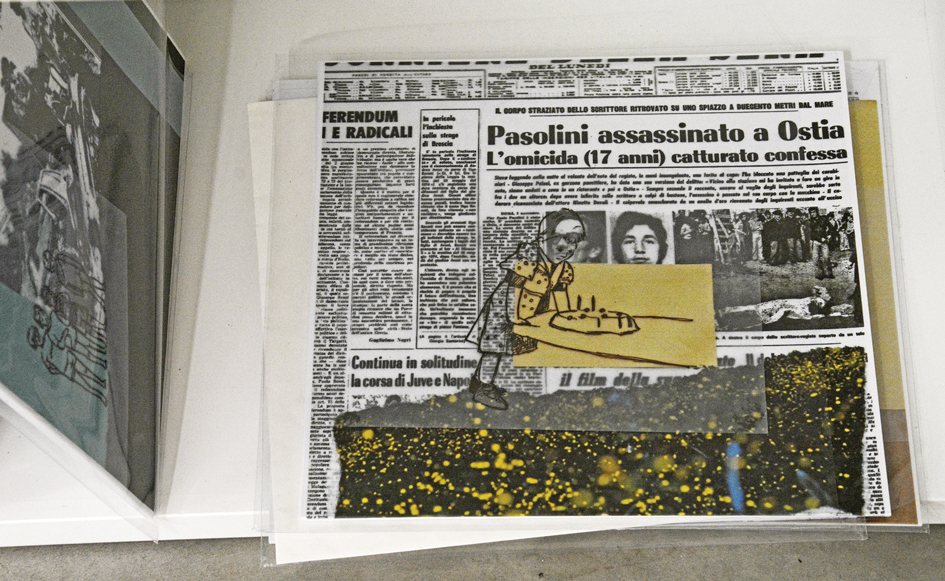 What does resist? is the question I ask in Impero Ottomano, a performance – installation with a brass sheet, a table and two chairs. I seat and invite persons to do arm wrestling with me. In Impero Ottomano, the differences between East and West have a visual translation on the 12 kgs shiny brass plate; what resist is language, the words I engrave on it after the match.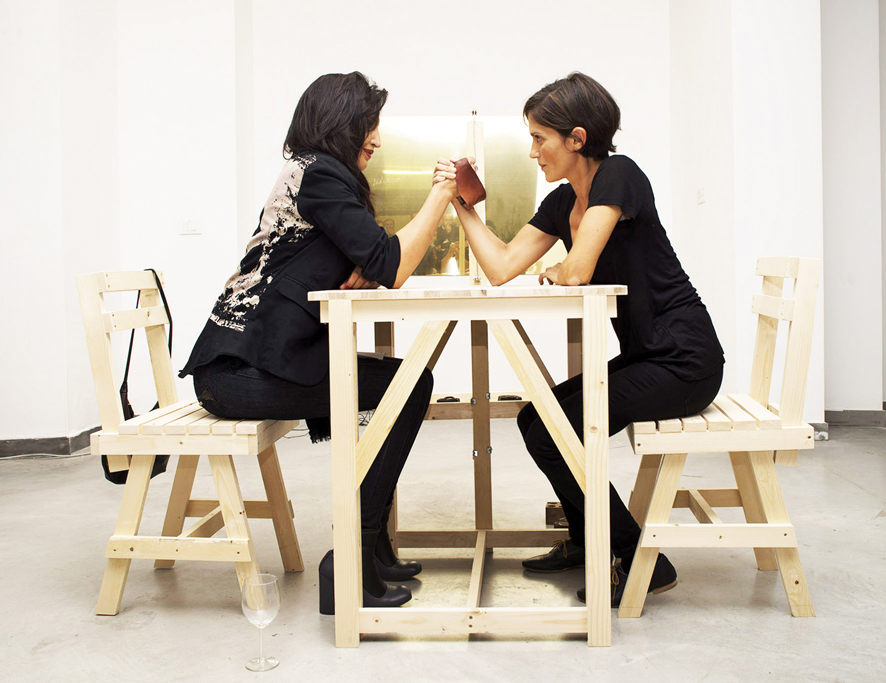 8:00 am. I finally get out the Garibaldi Hospital with a cast from my hand to my armpit. I'll have to wear it for 30 days, everyone asks me if I got it after my arm wrestling performance. I try to figure it out thinking about the bond between life and art. The answer is immediate, since I went out from a first aid: I work on urgency. I work on that thing that presses me and it's true and necessary for me, here and now.
Parole Passeggere has been a turning point in this year production. The urgency of writing and telling, the need of words arose and got its shape thanks to some old Olivetti typewriters. So I realized the project Inchiostro, in collaboration with MAXXI, an installation set in the Roma Ostiense train station porch. 9 typewriters Lettera 32 were on 9 benches. The Parole Passeggere were typed from 8 in the morning till 9 in the evening. Pedestrians and passengers stopped by to write or to dictate me stories and thoughts. Writing, actually, has a rhythm and a time like walking, it comes across the space of a white page. During the day, the sound of typewriting fulfilled the porch. A coming and going of people walked on the memory lane through the writing, paper sheets hanging from the walls gave shape to the Passenger Words.
Finally it's February 2016, yesterday I got rid of the cast, my next work will be about the embrace!
Cover: Parole Passeggere, 2015, dettaglio installazione.